Set course for a laid back lifestyle
The Waterfront, Shell Cove is putting this coastal region on the map as a world-class boating and lifestyle destination and the new leisure spot. It's a transformation that's taken time, patience, and an unwavering vision to deliver a harbourside precinct that's the envy of the NSW South Coast
---
They say you can't rush perfection, and that's certainly been the story of Shell Cove. An idea drawn up more than three decades ago by forward-thinking planners at Shellharbour City Council and brought to fruition with Frasers Property Australia, Shell Cove was designed around a singular vision to deliver jobs, homes, lifestyle amenity and tourism pull in abundance.
In 2021, this ambitious project has recently unveiled its crown jewel and ultimate drawcard: a waterfront and harbourside precinct that oozes coastal charm with a level of laid-back luxury that's quintessentially Australian.


A radical reimagining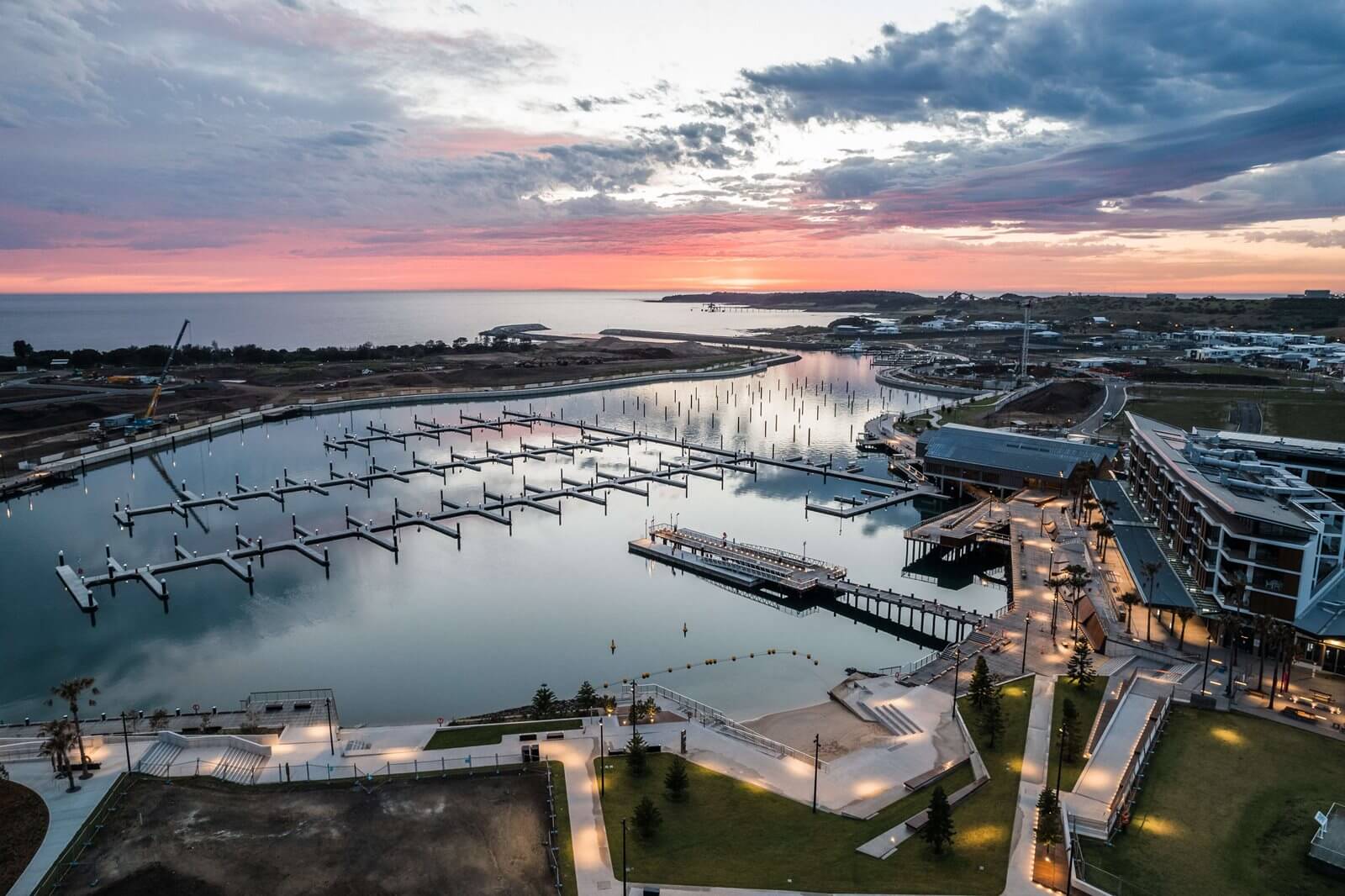 Taking a quiet backwater known for its good surfing breaks and turning it into a world-class destination for boaters and beach lovers is no small feat. "It's a radical reimagining of a place that has never been considered posh, or even as a destination," says Emma McGill, NSW Marketing Manager
"A great vision for a place is usually centred on a single organising idea that has the strength to endure over time," adds Simone Dyer, who sits at the helm of the project as Development Director. "Look at the world's most interesting and memorable places, particularly the quintessential seaside towns and marinas scattered throughout southern Europe. These much-loved places are characterised by a strong vision to create a place with beautiful architecture, and quality amenity in public spaces."
"At The Waterfront, Shell Cove, the idea to create a publicly accessible, world-class boat harbour and marina that is larger than Darling Harbour in Sydney's CBD, is the single organising idea that both contributes to the economic success of the entire region, but also creates a very desirable place to both live and visit."
The idea to provide recreational marine facilities on the NSW South Coast was conceived in the late 1970's and the result is a 347 hectare whole-of-suburb community with a 12ha boat harbour at its core and an abundance of amenity, even an 18-hole championship golf course.
For the last 20 years, the project has been largely a land sub-division project with the first land lots going on sale in 1997. And in 2013, construction began on the project's centrepiece, a harbour and surrounding waterfront precinct.
"The vision has endured the ebbs and tides of changing market conditions, and very challenging environmental and geotechnical conditions associated with the delivery of major infrastructure," says Simone.
"Shellharbour City Council have been incredibly solid in their vision to create a place that marries locally-sensitive urban development with the inclusion of a lifestyle destination that will attract visitors to the region," says Simone. "It's been a privilege to work with them to bring that vision to fruition."
Now, more than 30 years on, that vision has been realised in the form of a stunning masterplanned community surrounded by beaches, parks and wetlands, with a 270-berth marina, a town centre and a waterfront dining precinct and tavern perfectly located to take in the harbour views.
And there's still more to come.
The Waterfront's crown jewel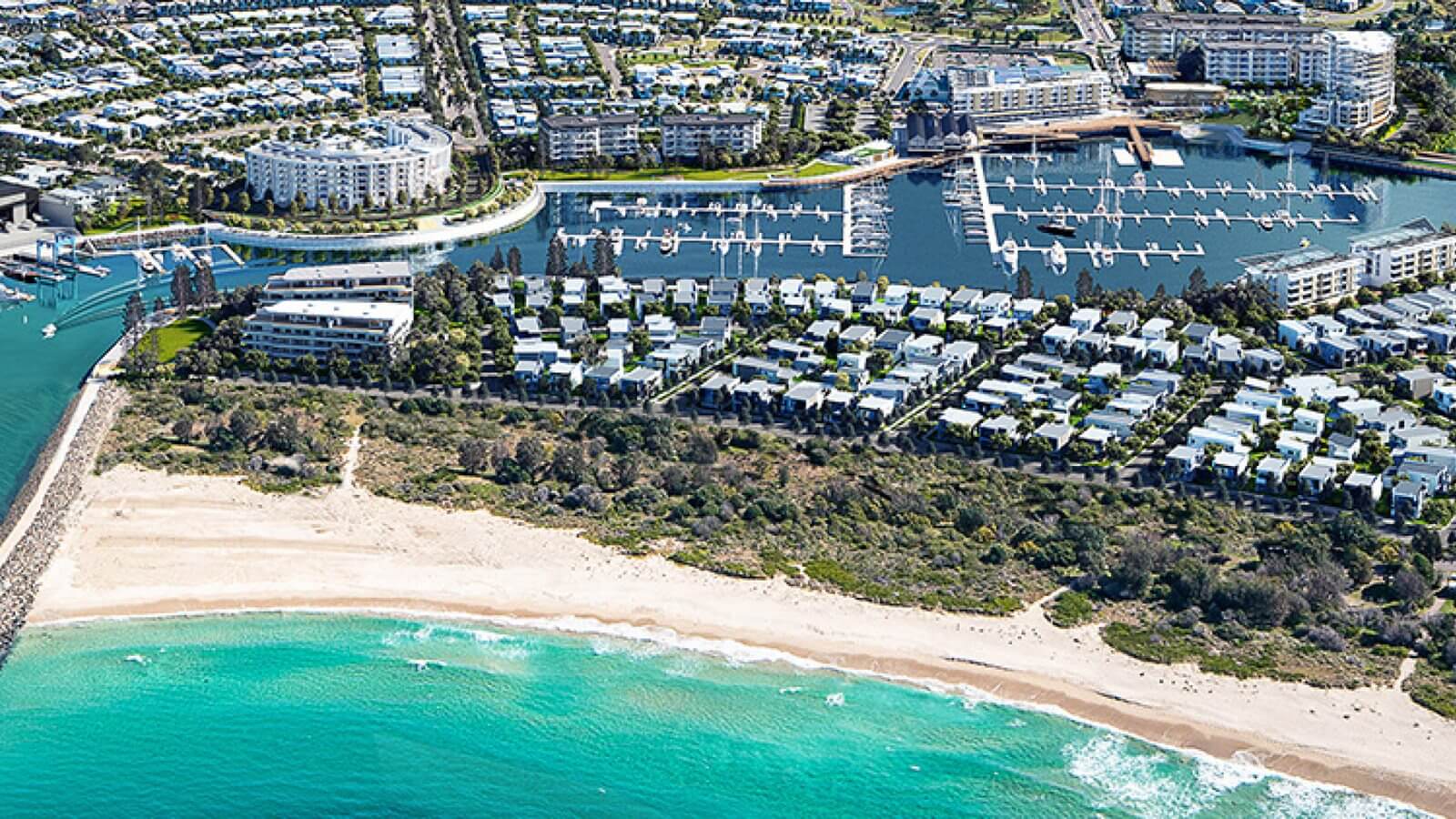 Come summer, residents and visitors alike will be able to take delight in the destination's pride and joy – the Shell Cove boat harbour and marina precinct. Offering direct access to the Pacific Ocean, the harbour will become the new gateway and elevate Shell Cove as Australia's newest boating destination on the eastern seaboard.
"We're very excited about the marina. I think this will be a world-class facility and there's simply nothing like this on the South Coast," says The Waterfront resident, Greg Sutton.
The harbour and precinct boasts a public boat ramp with trailer parking, marina berths and dry stack storage, as well as a variety of commercial marina facilities and services. Those on land will be able to enjoy the water from the foreshore promenade and boardwalks surrounding the harbour and marina.
"This extraordinary world-class boating amenity is now open, in time for summer, creating a hot new tourist spot to visit on the South Coast," sums up Emma. "Come 2022, this is going to be a really humming boating and lifestyle destination."

Lunch with a view
Looking out over Shellharbour Marina is The Waterfront Dining Precinct, where food and beverage retailers are positioned along the harbour's edge, each one carefully considered to complement the location's waterfront views and coastal lifestyle. Showcasing six different restaurant experiences, the dining precinct will offer the best of the region through food, wine, craft beer and brews.
Perhaps most prominent is The Waterfront Tavern, which will become the new place for sports, family dinners and friends. It will be a hub of energy and a place to enjoy the views over the marina or a game on the big screen inside. Directly opposite The Waterfront Tavern is Georgia Rose, the hottest new bar and dining venue to open on the South Coast. Open from 7am until late for coffees, cocktails, and everything in between, Georgia Rose will be a place to revel in laughter, fun, and catch ups with friends.
Or drop by the new up-market fish and chips restaurant, The Salty Squid. Serving quality fish and chips, even new-school gourmet seafood burgers, this is fresh, convenient seafood with a stunning harbour view.

NSW's newest destination
Situated just 90kms from Sydney's southern suburbs and 213kms from Canberra, The Waterfront, Shell Cove lends itself as a much-needed relief from the hustle and bustle of everyday life. Add in the harbour's access to the Pacific Ocean, and you have all the makings for a world-class holiday destination.
Accommodating future vacationers will be The Waterfront's very own luxury harbourside hotel. Expected to open at the end of 2023, the hotel will offer holidaymakers contemporary hotel rooms and serviced apartments with access to resort-style pools, a restaurant, bar, and day spa.
"It will be 14 storeys, with beautiful views over the beach and marina," says Emma. "It's the next stage in The Waterfront's journey from becoming a place for day trips to a weekend getaway."

A lifestyle like no other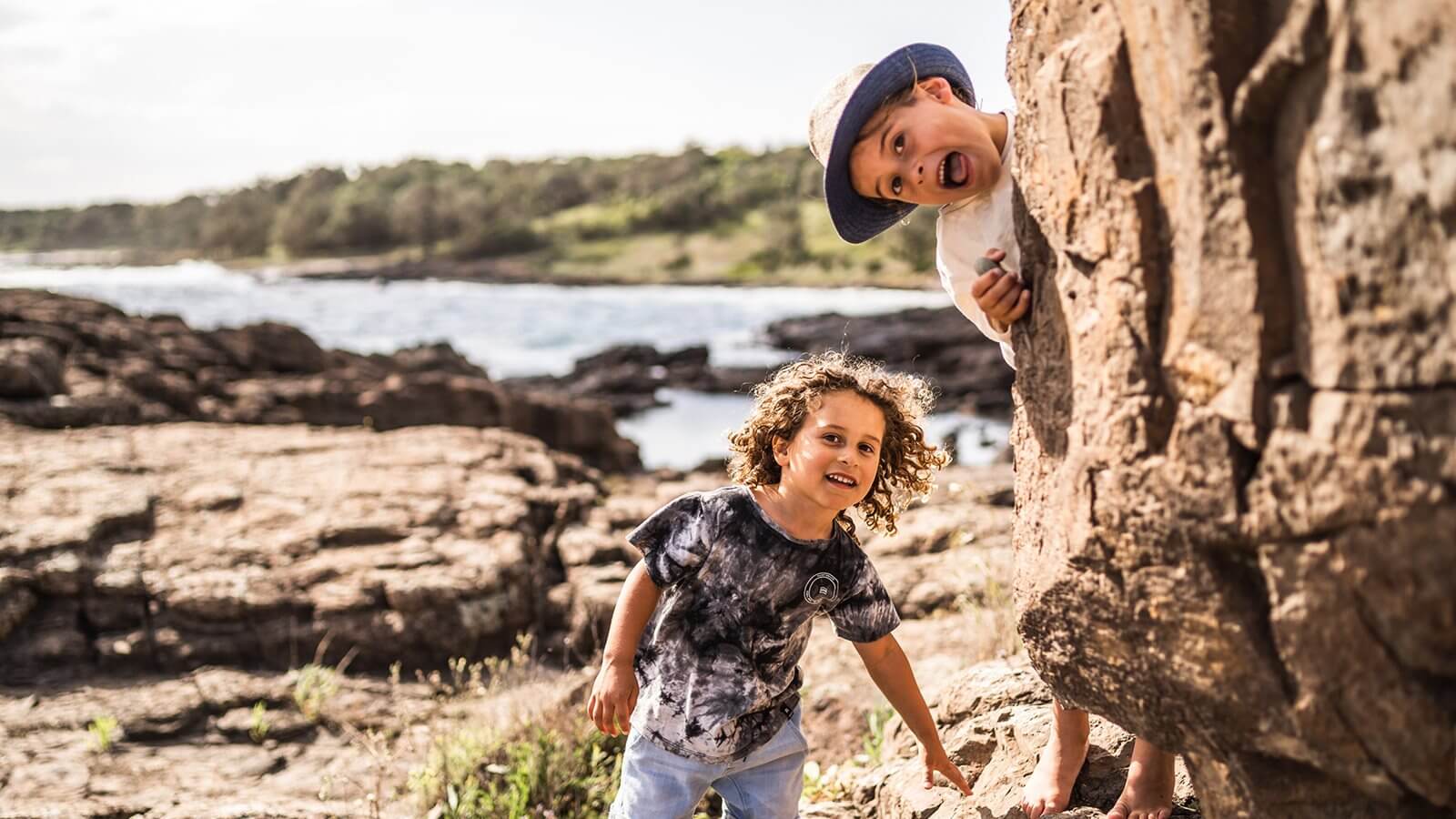 It's not just holidaymakers that get to enjoy all that The Waterfront has to offer. The lucky people who call Shell Cove home get to have this incredible amenity on their doorstep all year round.
"It's somewhere that can make you feel like you're on holiday, even if you're a local. That you've escaped to the beach, or are somewhere coastal and relaxed," Emma explains. "For Shell Cove residents, this means so much in terms of creating the heart and soul of their neighbourhood."
Greg Sutton and his wife Linda are some of those fortunate enough to call Shell Cove home. Locals to the area, the couple jumped on the opportunity to purchase one of the Nautilus release's premium harbourfront apartments. "We love the design of the building, the architecture, and the facilities such as the heated pool and gym. But ultimately, it was the prime harbourfront position that attracted us.
"It's the best address in Shell Cove and it's so close to the town centre. We love the idea of Woolworths being just down the road, and there are also cafes and shops. Shell Cove is like a city within itself and there's no better place on earth, I reckon."
Their sentiment is shared with Alliera Carroll, who moved into Shell Cove in 2000 and is now on her third home in the neighbourhood. There's nowhere else she'd rather be.
"Our first place was a really nice house with an amazing view, but in 2017 my partner and I decided that we wanted to be closer to the marina and the waterfront, where the Woolies and the shops would be, so we bought a block of land in Pier Avenue and built a one-storey home on it," says Alliera.
It would've been their "dream house" in what the couple reckons is "the best street in Shell Cove". But when they fell pregnant with twins, they had to look for a bigger home.
"With four kids living in the house we needed more room than what we had originally built. So, we secured a larger lot in the Catamaran release, which is closer to my parents' house. My sister and her husband live in that area as well, so we'll all be living around the waterfront and be within walking distance of each other," she says.
Ultimately, what's kept Alliera and her family at Shell Cove is its unbeatable combination of lifestyle and amenity.
"There are lots of nice pathways in the neighbourhood. We always see kids and families out walking and riding their bikes and we just love how it's so lush and green everywhere," she says. "The parks are amazing. We usually go to the park across from Woolies. There's play equipment for our twins, who are 18 months old, and there are things our girls who are 10 and 12 can do as well. The facilities are for children of all ages, which obviously makes it easier for us.
"I love Shell Cove and I think it is a really good place to raise children. I couldn't imagine living and raising my family anywhere else. I don't have to leave Shell Cove at all, as I can get pretty much everything here."
It's a sentiment that's echoed by Brittany and James Jimenez. Raising three young boys means needing plenty of space to let them run free.
"We are so lucky to have all this beautiful natural environment around us to enjoy," says Brittany. "We're raising our kids to be active, independent, and safely at home in the great outdoors. Living at Shell Cove means they're close to the beach, we can go bushwalking whenever we want, they can ride their bikes everywhere, go surfing or scuba diving. It's why they love it here and it's why we couldn't imagine being anywhere else."

The Waterfront, Shell Cove, by the numbers
A new masterplanned community by Shellharbour City Council, with Frasers Property Australia
3,000+ homes
145ha of public reserves
12ha boat harbour
270-berth Shellharbour Marina, plus commercial boating facilities and marina services centre
The Waterfront Dining Precinct including The Waterfront Tavern and a range of restaurants
Children's beach
Shell Cove Town Centre with Woolworths and speciality stores
Proposed hotel, community centre, library, and visitors' information centre
90kms from southern Sydney; 22kms from Wollongong


Live every day like a holiday
The Waterfront, Shell Cove offers the best of coastal living. Where lifestyle takes centre stage, and every day feels like you're on holiday. If you're ready to make the move, find your ideal coastal home today. To make your enquiry, give us a call on 13 38 38.