A cheaper, greener solution to rising energy costs
If you've ever spent any time comparing energy plans, finding one that offers the holy trinity of 'cheaper, greener, simpler ' may seem like a miracle. But for Frasers Property residents and tenants buying energy through the company's wholly-owned, 100% carbon neutral energy retailer, Real Utilities, it couldn't be easier to go green for less.
---
General Manager of Frasers Property Australia's Real Utilities business, Paolo Bevilacqua, concedes that most people are surprised to learn that the property developer, best known for high-profile projects like The Waterfront Shell Cove, Burwood Brickworks, and Central Park Sydney, would also want to become an energy retailer. But dig a little deeper, and the diversification makes a lot of sense – especially considering the company's target of net-zero by 2028.
"In terms of energy innovation, we've been on this journey for many years", says Paolo. "A decade ago, we pioneered the country's first privately-owned central thermal plant at Central Park Sydney. A few years later we introduced geothermal heating and cooling technology at our Fairwater project in Blacktown, and we've been actively investing in large-scale solar installations on our industrial sites around the country".
"At some point, it made sense to capitalise on the knowledge and skill we'd built up in delivering green energy infrastructure and turn that toward providing the energy to customers too".
And so, in 2017, Real Utilities was born, with residents at Tailor's Walk – a Frasers Property community in the Sydney suburb of Botany – the first to have their electricity provided by the company's 100% carbon neutral and owned energy retail business. Since then, Real Utilities has expanded to supply green energy to over 1,800 residents and tenants at multiple Frasers Property projects, including residential communities like Sydney's Discovery Point and Ed.Square, Melbourne's Burwood Brickworks, Brisbane's Minnippi Quarter, and The Waterfront Shell Cove on the NSW Illawarra Coast.
The company also supplies energy to tenants on its commercial, retail, and industrial projects, greatly contributing to reductions in carbon emissions and vastly improving the environmental footprint of these locations.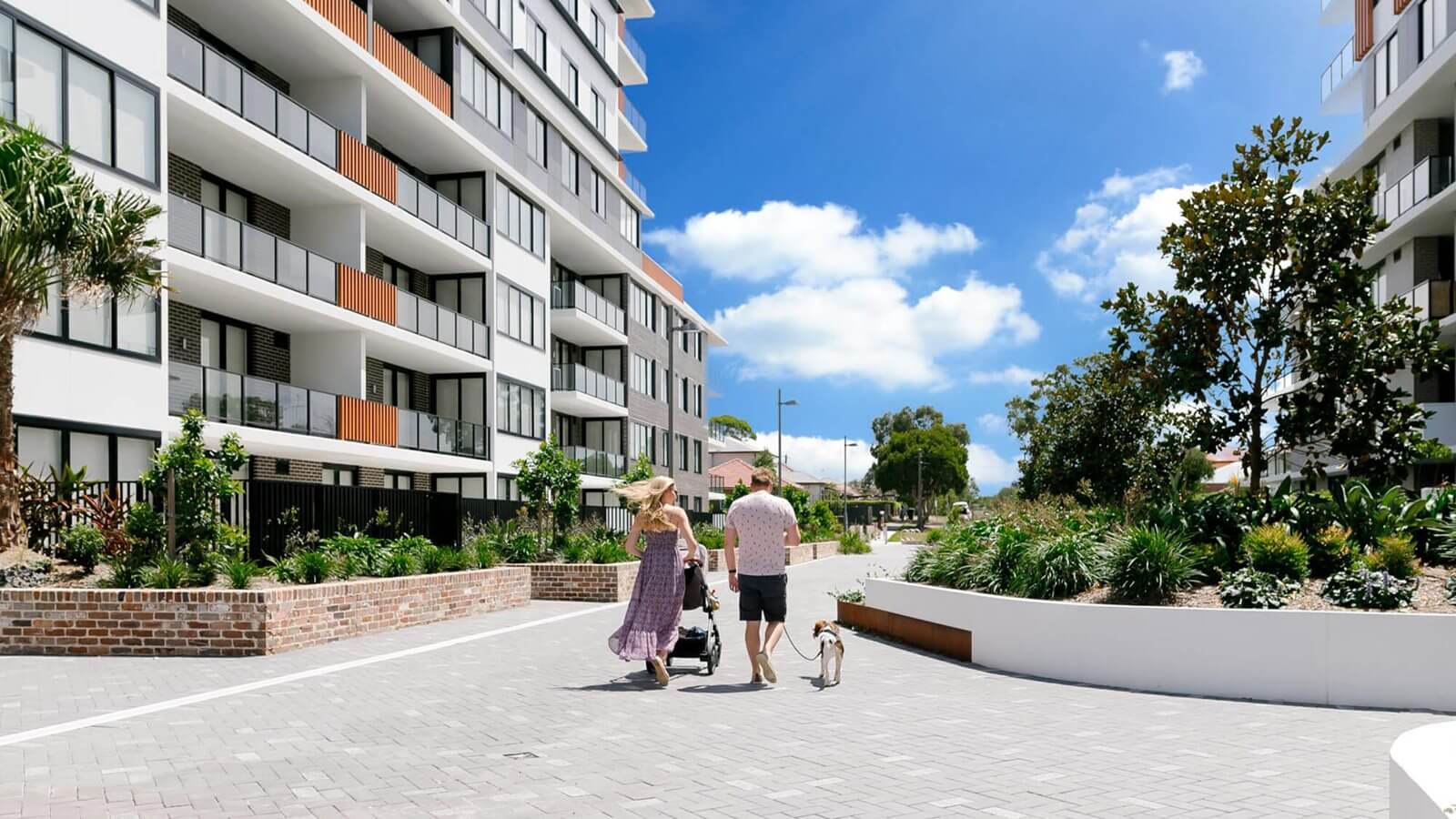 It's finally easy (and cheaper) to be green
Paolo says that once customers get over their surprise that the developer can also be their energy provider, the ease and convenience of signing up with Real Utilities, combined with complete transparency around pricing and industry benchmarking, makes it a simple choice to make.
So, how exactly is the energy supplied by Real Utilities greener?
According to Paolo, the result is achieved through a combination of initiatives. The first is investing in on-site energy efficiency initiatives and renewable energy infrastructure, which in most cases comes in the form of solar photovoltaic panels on rooftops combined with battery storage. Where the energy captured and stored from these methods falls short of capacity requirements, Real Utilities will purchase renewable grid energy such as wind and solar from other providers as well as buy carbon offsets to ensure a net-zero carbon result for consumers.
"Through Real Utilities, we've been able to simplify the way our residents and tenants can access carbon-neutral energy solutions while being able to accurately calculate the required off-site renewable energy requirement to neutralise the carbon footprint", says Paolo. "It means they can confidently make meaningful change without having to invest in all the renewable energy infrastructure such as solar panels and batteries themselves."
Steve Neilans is a resident at Frasers Property's Tailor's Walk community. A lifelong AGL Energy customer before he moved into his new home in Botany, he made the switch to Real Utilities after realising he would get a cheaper rate. What has impressed him most about the energy retailer is the personal attention to customer service he receives.
"I'm a self-funded retiree", says Steve, "so it's important to me to know I have the best rate and that I'm billed monthly. My customer service manager, Huey, set it all up for me and he's really easy to talk to and just wonderful to deal with. It's a very happy relationship and everything is simple and drama-free."
Harnessing energy for positive change
Looking to the future, Real Utilities is assisting the Frasers Property business in its ambitious target to become a carbon-neutral business by 2028, adding about 1,000 new customers a year across the company's portfolio of projects, including residential, retail, commercial, build-to-rent and industrial communities.
Key to that growth is changing the perception that greener means more expensive.
"Energy is going through a significant transition in Australia with the cost of producing and supplying renewable energy coming down rapidly", says Paolo. "For many years, I think there's been this perception that buying green power is going to come at some sort of price premium. But that's really no longer the case. In fact, all the evidence points to 'brown power' costing more."
As lower costs underpin cheaper energy prices, the final barrier for many consumers in switching over to a greener alternative falls away.
It's a transformation that Frasers Property and Real Utilities have invested heavily in, with dividends coming in the form of closer relationships with customers and a practical path to achieving the net-zero carbon target across the Frasers Property Australia business by 2028. The future looks brighter as a result.