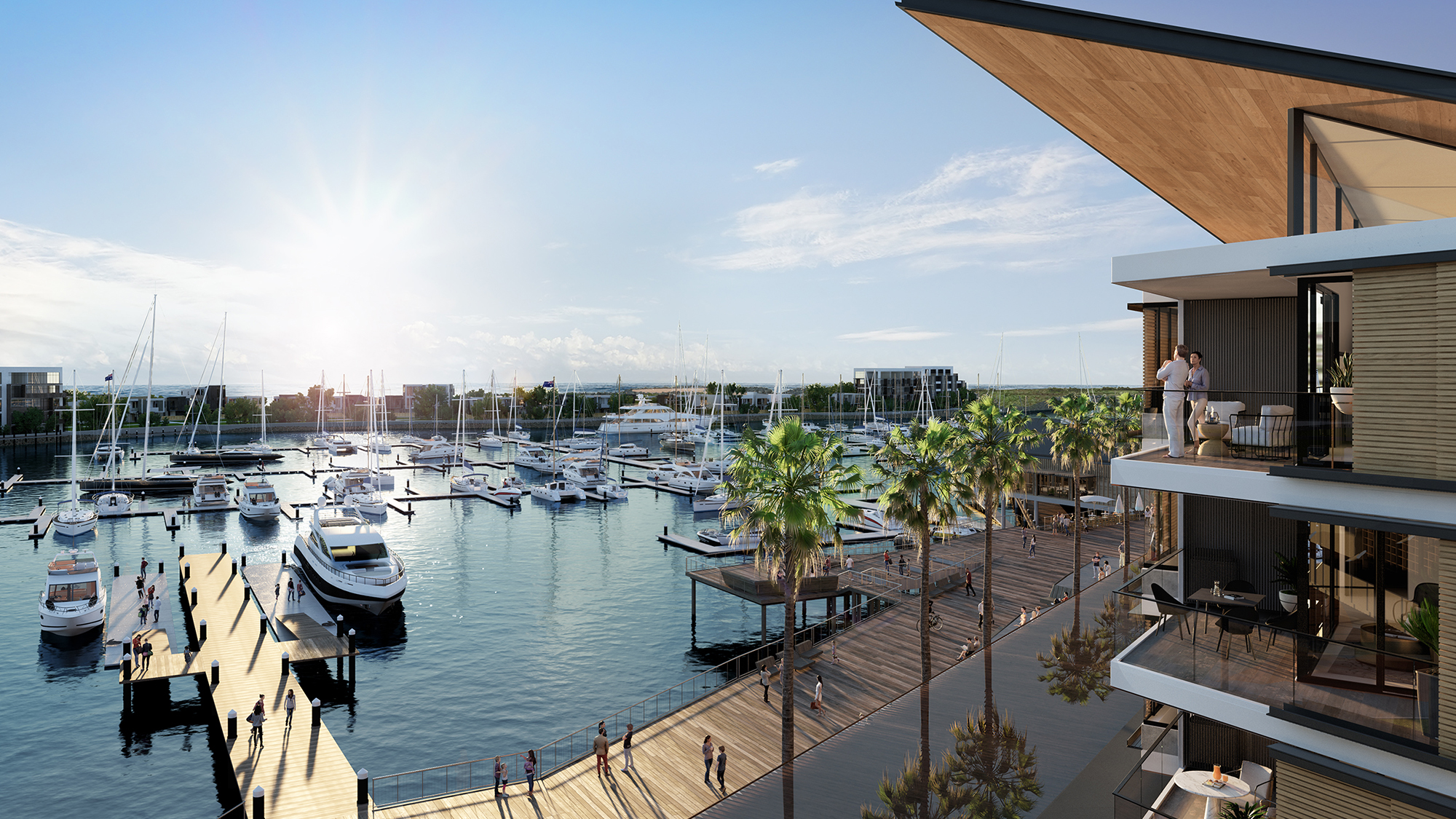 First chance to secure an apartment at The Waterfront
SYDNEY – 7 FEBRUARY 2018 – The long-awaited release of the first apartments at The Waterfront, Shell Cove has been met with intense demand, with more than 1,000 registrations of interest already received for the first 45 apartments in Frasers Property Australia and Shellharbour City Council's new masterplanned community.
The release, appropriately dubbed AQUA, will comprise three levels of apartments above the restaurant precinct at The Waterfront, Shell Cove, just in front of the town centre. Positioned at the marina's edge, AQUA will take full advantage of the breathtaking views of the marina, ocean and coastline.
Designed by internationally acclaimed architects HDR, AQUA will include a selection of one, two and three-bedroom apartments, each with convenient lift access from the residents' car park. People can even choose a luxury upgrade option.
One-bedroom apartments will range from $565,000 to $590,000, two-bedrooms range from $630,000 to $905,000 and three-bedrooms range from $900,000 to $1,495,000*. All apartments come with at least one car space.
A VIP launch of AQUA will be held this month and everyone interested should attend an information session at the Shell Cove Sales & Information Centre to find out how they can secure their preferred apartment and be part of the VIP launch process. To book a place at an information session call Frasers Property on 13 38 38.
National Director of HDR Susanne Pini was born and raised in the Illawarra, has a deep connection to the area, and believes the unique proximity of the coastline to the mountains underpins its natural beauty. This geographical anomaly inspired the design of AQUA.
"Australians drive along the coastline and relax at the beach, but not many communities are truly defined by the waterfront. We wanted to change that at Shell Cove. The architecture of Aqua, as the first waterfront residential building, literally hugs the marina's edge," says Ms Pini.
"Residents will feel they can touch the water while being part of the vibrant dining precinct. Aqua embraces and celebrates the harbourside's natural beauty, with its roof form pitching upward to capture the wind and orientating the sun and cooling breezes into its interiors.
"The interior layout and floor plans have a seamless transition between inside and out, and the selection of materials and colours complements the sense of connection to the water."
Glenn Colquhoun, Development Director – Shell Cove, Frasers Property Australia says the apartments at The Waterfront offer greater choice in homes in the new community.
"We want to provide a variety of housing options so more people can enjoy the lifestyle on offer in this idyllic, convenient setting. These apartments enjoy an unrivalled position right in the heart of The Waterfront, nearest to all the amenities, and will set a new standard in luxury living," Mr Colquhoun says.
"Our research shows three-bedroom waterfront apartments in particular are in high demand, with very few alternatives outside Wollongong and Shellharbour. Now people have greater choice.
"Apartment living means a convenient lifestyle. The apartments at The Waterfront offer a single-level, low-maintenance solution to empty-nesters and retirees who want to downsize their south coast home but not their lifestyle," Mr Colquhoun says.
Mr Colquhoun says those choosing to use their apartment at The Waterfront, Shell Cove as a weekender will be able to relax as soon as they walk in the door because everything they need will be
right at their fingertips.
"As soon as you arrive you will be able to set down your bags and go out to enjoy all the amenities on offer at The Waterfront, whether that is relaxing on your boat, walking along the marina's edge or enjoying a meal at one of the restaurants," he says.
The first apartments are expected to be completed in 2019, coinciding with the completion of stage two of the town centre, so residents can enjoy all the amenities in their new community as soon as they move in.
Work has commenced on stage one of the town centre, which includes a retail precinct anchored by a Woolworths supermarket and nine specialty shops. Stage two includes a waterfront restaurant precinct with around six eateries.
A waterfront tavern, community centre, library and hotel will follow.
A focal point of the new community will be the new 270-berth boat harbour and marina, which is well underway. When complete, The Waterfront, Shell Cove will be a world-class boating, tourist and lifestyle destination attracting people from far and wide.
The Shell Cove Sales and Information Centre is located on Cove Boulevard, Shell Cove, and is open seven days from 11am to 5pm. To register your interest or for more information call 13 38 38 or visit www.shellcove.com.au.
*All indicative prices only, subject to change.