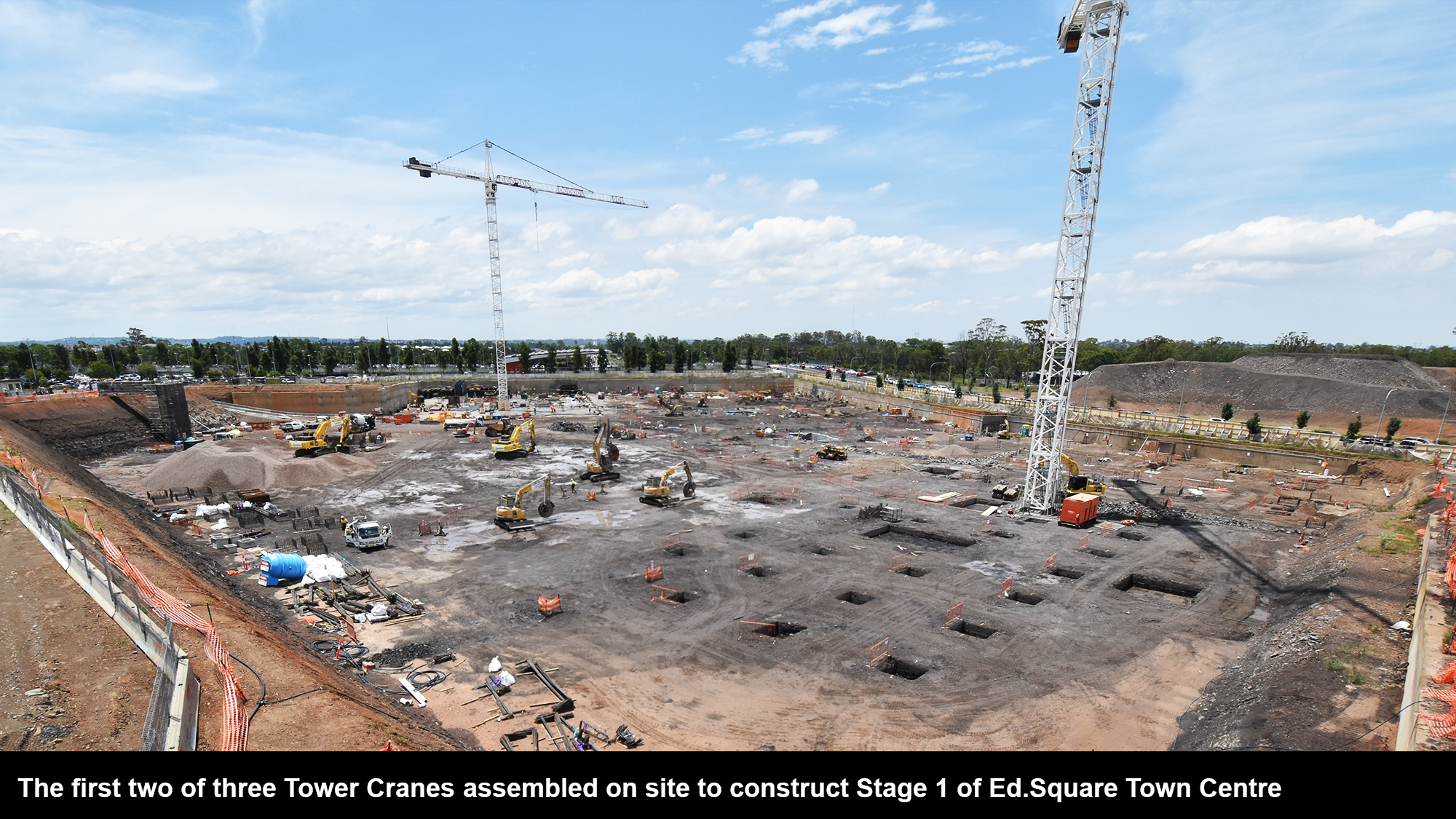 Probuild awarded tender to build stage one of Ed.Square Town Centre
Probuild has been appointed to deliver stage one of Ed.Square Town Centre, including a 25,000 sqm super neighbourhood centre designed to be a landmark shopping and dining hub for residents and visitors.
Work has commenced on stage one of the town centre at Ed.Square, Frasers Property Australia's game changing new community adjacent to Edmondson Park train station in Sydney's south west, which will house 90 specialty shops including Liquorland and anchored by a full-line Coles supermarket.
The Town Centre will provide a shopping, dining and entertainment precinct incorporating an Eat Street, fresh food market place, Event Cinema complex, waterplay area and healthcare facilities.
Frasers Property has secured leases covering more than 30 per cent of the available retail space in stage one of Ed.Square Town Centre.
Other retail uses already committed include a gym, childcare centre, hair salon, nail bar, beauty shop, massage parlour, barber, newsagent, fishmonger, bar & grill, Chinese restaurant, Indian restaurant, several cafés, steak house, sushi restaurant, Thai restaurant, burger restaurant, medical centre, dentist, chemist and optometrist.
The Probuild contract also includes four residential apartment buildings comprising more than 300 homes, along with approximately 1,500 car spaces.
Construction of stage one will generate more than 600 local jobs with completion scheduled in late 2020.
The DA for the first stage of the town centre and residential precinct was approved in September.
With 200 homes already sold at Ed.Square, the new community has created a stir among residential buyers, retail tenants and the wider community.
Peri Macdonald, Executive General Manager – Retail, Frasers Property Australia welcomes the Probuild appointment and start of construction of stage one of Ed.Square Town Centre. "This is a major milestone in the creation of Ed.Square and we're excited that construction of the town centre – the heart and soul of this new community – will soon be under way," says Mr Macdonald.
Nick Gaudry, Probuild's NSW Managing Director, says Probuild is excited to be part of such a fantastic mixed-use project and to continue its successful relationship with Frasers Property. "We have unparalleled experience in high-rise residential and retail builds across the country and we will draw on this technical expertise to deliver the first stage of Ed.Square Town Square," says Mr Gaudry.
A proposed second stage of the town centre could bring the total retail space to up to 40,000 sqm.
World class architectural firms HDR, GroupGSA and HASSELL have collaborated to deliver the new Australian dream at Ed.Square, a connected community adjacent to Edmondson Park train station comprising over six hectares of open space and a variety of home styles and floorplans.
The 992 apartments and 892 terraces and townhouses will all be within walking distance of the town centre, which will feature a 68-metre high residential tower at its epicentre. The first Ed.Square residents are expected to move into their homes in the second half of 2020.
Ed.Square will be serviced by convenient bus and train links to Parramatta and Sydney CBD, along with easy access to Sydney's main roads. Liverpool is three train stops away from Edmondson Park train station and Western Sydney Airport will be close by.
For further information or retail leasing enquiries at Ed.Square, phone Frasers Property on 13 38 38 or visit www.frasersproperty.com.au/retail/nsw/ed-square/enquire.